Bosnia & Herzegovina 2007
Photos by Adam Jones
---
The following photos were taken during a ten-day trip
to Bosnia & Herzegovina in July 2007.
---
Photo Gallery 1 - Mostar
---
I.
Looking down the Neretevo River toward old Mostar.
---
II.
At a restaurant in the old city, a waitress in traditional dress.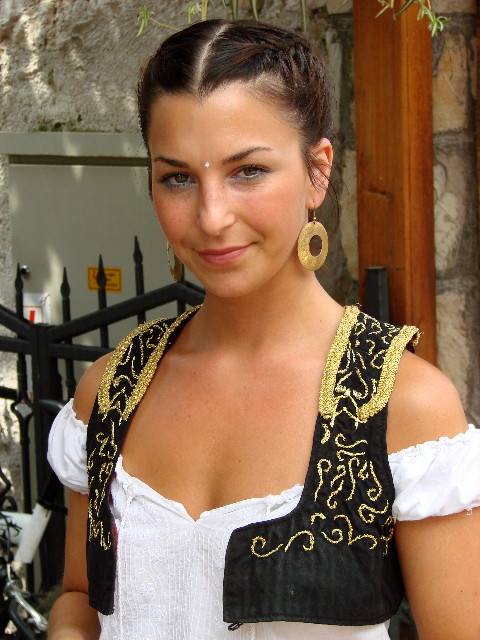 ---
III.
A member of the Stari Most (Old Bridge) "divers' cooperative" warms up before launching
himself from the bridge into the Neretva River.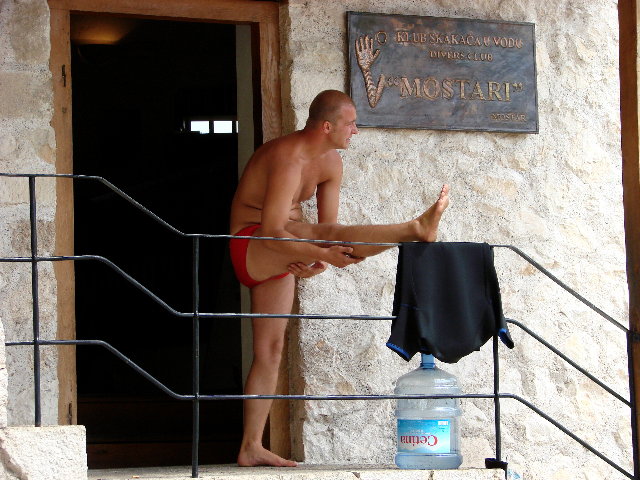 ---
IV.
Another member of the "cooperative" takes the plunge,
while tourists and fellow divers cheer him on.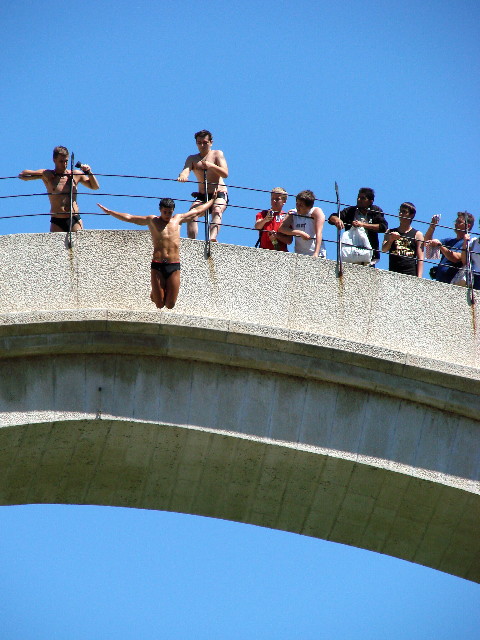 ---
V.
Stari Most - The Old Bridge
Mostar's landmark was built in the mid-16th century to replace a suspension
bridge, and stood for 427 years before it finally fell victim to Croatian shelling
during the vicious siege of Muslim neighbourhoods of Mostar in 1993-94. After the war
ended, all sides joined forces, supported by the international community, to rebuild
the bridge, using Tenelija stone from the same quarry as the original, and only traditional
construction techniques. It was finally reopened in 2004. The bridge again serves as a symbol
of ethnic diversity and coexistence -- although Mostar is now starkly divided between the Muslim
east bank of the Neretva River and the Croatian west bank. Following is a selection of images
of this beautiful UNESCO World Heritage Site from various angles.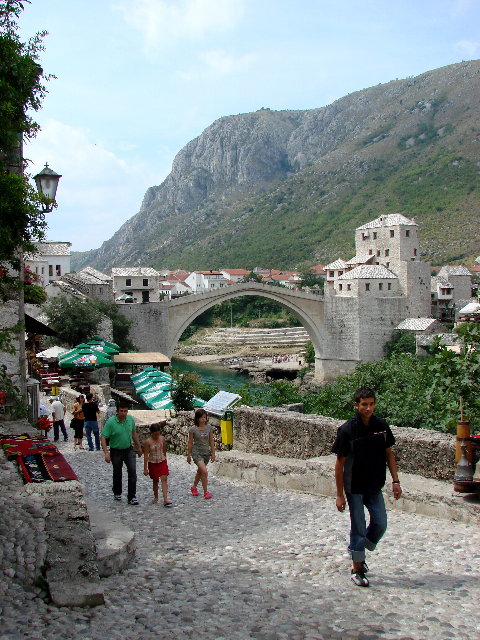 ---
VI.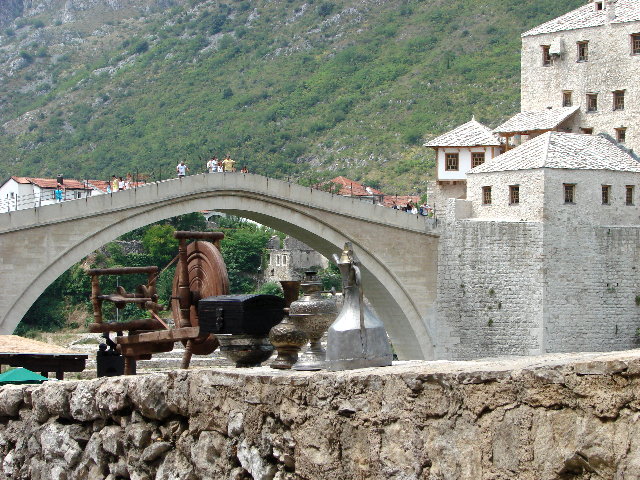 ---
VII.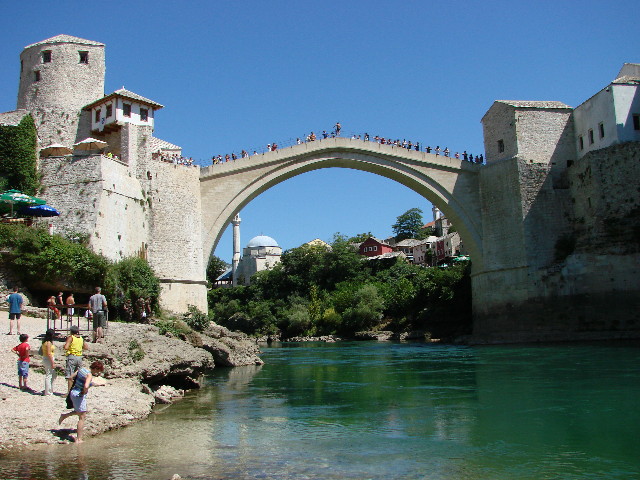 ---
VIII.
This photo and following: the bridge viewed from the minaret
of the Koski-Mehmed Pasa Mosque.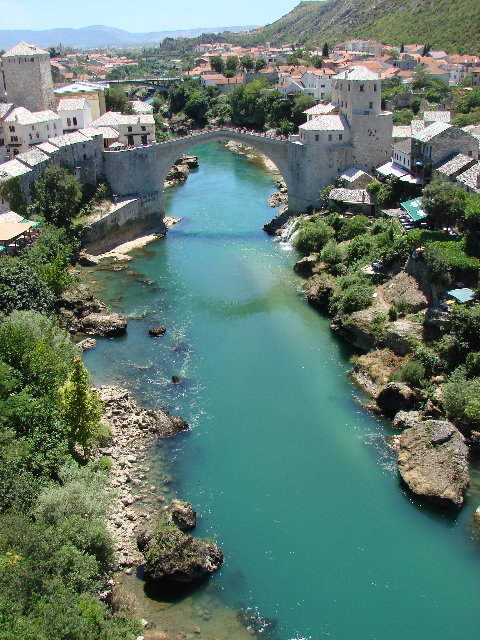 ---
IX.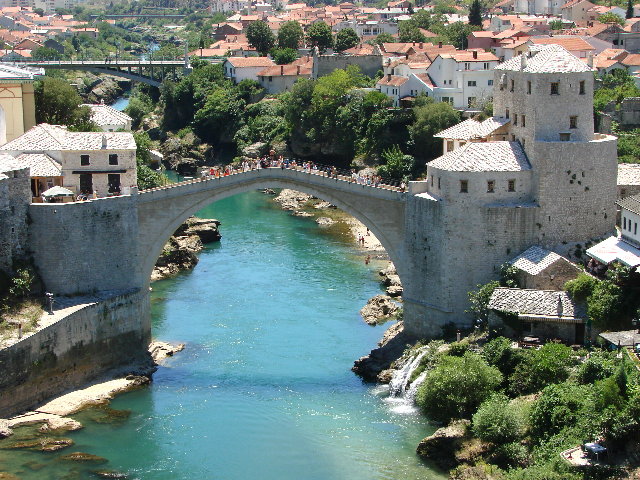 ---
X.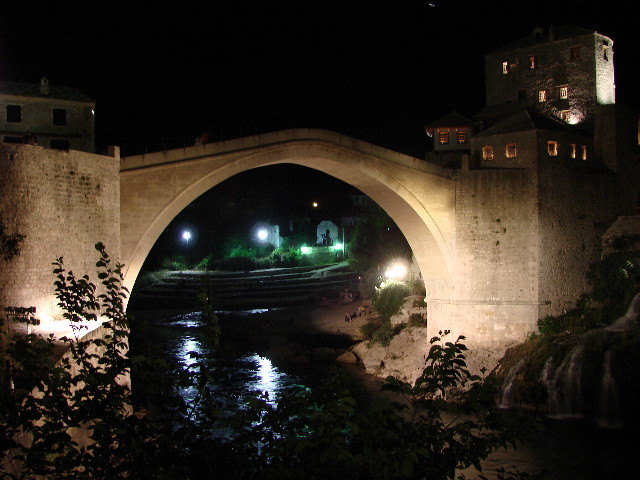 ---
---
All photos are copyright 2007 by Adam Jones. No copyright is claimed for educational or other non-profit use if the author is credited and notified. For commercial use, please contact the author. Photos are also available in large-size (3072 x 2304), high-resolution versions suitable for printing and framing.

adamj_jones@hotmail.com