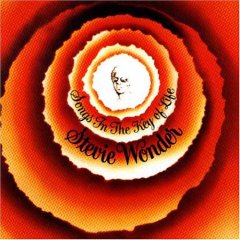 Top Fifty Albums
By Adam Jones
Compiled: November 2006
Albums are in alphabetical order by artist.
---
Rules: No more than one album per artist (hence, no Exile on Main St., Abbey Road, or Led Zeppelin IV). Bootlegs (unofficial recordings) are acceptable; so too are greatest-hits and various-artists compilations, if they have a cohesive identity as albums.
---
(1) Alice in Chains – Dirt
(2) The Beatles – Rubber Soul
(3) Beck – Odelay
(4) David Bowie – Low
(5) Burning Spear – Marcus Garvey
(6) Elvis Costello – King of America
(7) The Cure – Standing on a Beach: The Singles
(8) Willie Dixon – Poet of the Blues
(9) Bob Dylan – Blood on the Tracks
(10) Eminem – The Marshall Mathers LP
(11) Aretha Franklin – Aretha's Gold
(12) Al Green – The Very Best of Al Green
(13) Guns N' Roses – Appetite for Destruction
(14) Jimi Hendrix – Electric Ladyland
(15) Fela Kuti – Black Man's Cry
(16) La Ley – Unplugged
(17) Led Zeppelin – Physical Graffiti
(18) Sarah McLachlan – Mirrorball
(19) Manα – Unplugged
(20) Bob Marley & the Wailers – Live!
(21) Massive Attack – Blue Lines
(22) Megadeth – Rust in Peace
(23) George Michael – Ladies & Gentlemen ... The Best of George Michael
(24) Midnight Oil – Diesel and Dust
(25) Nirvana – Nevermind
(26) Sinιad O'Connor – I Do Not Want What I Haven't Got
(27) Orishas – A Lo Cubano
(28) Liz Phair – Exile in Guyville
(29) Pink Floyd – The Wall
(30) Elvis Presley – The Sun Sessions
(31) Pretenders – Pretenders
(32) Public Enemy – Fear of a Black Planet
(33) R.E.M. – Lifes Rich Pageant
(34) Radiohead – OK Computer
(35) Rage Against the Machine – Renegades
(36) Rolling Stones – Hot Rocks 1964-71
(37) Roxy Music – Avalon
(38) Sade – Diamond Life
(39) Sex Pistols – Never Mind the Bollocks, Here's the Sex Pistols
(40) The Smiths – The Queen is Dead
(41) Soundgarden – Superunknown
(42) Bruce Springsteen and the E-Street Band – Piθce de Rιsistance (live bootleg, 1978)
(43) Talking Heads – Remain in Light
(44) Tragically Hip – Fully Completely
(45) U2 – Achtung Baby
(46) Various Artists – Respect: The Soundtrack to the Soul Generation
(47) The Who – Live at Leeds
(48) Lucinda Williams – Car Wheels on a Gravel Road
(49) Stevie Wonder – Songs in the Key of Life
(50) Neil Young & Crazy Horse – Live Rust
---
Created by Adam Jones, 2006.


adamj_jones@hotmail.com
Blog: http://jonestream.blogspot.com

---