Russia 2008
Photos by Adam Jones
These photos were taken on a month-long trip to Russia in May-June 2008.
---
Gallery 24: Kazan
We loved Kazan. Capital of the Autonomous Republic of Tatarstan, it celebrated
its 1000th anniversary as a city in 2005 -- hence the spruced-up state of the streets and many public
buildings. Kazan was the base for the Tatar raiders who made life hell for the Rus in the early period
of the Russian state, until Ivan the Terrible lived up to his moniker in 1552 and sacked the place (St. Basil's
Cathedral in Red Square, Russia's most famous landmark, was built to commemorate the victory over the Tatars).
Today, it's a remarkable mix of Islam and Christianity -- perhaps in more equal balance than anywhere else in
the world outside Lebanon, and a lot less fractious. The atmosphere is noticeably warmer and more easygoing
than elsewhere in Russia. The people are a handsome blend of Central Asian and Caucasian -- and the women
are simply gorgeous. (Griselda thought so too.) Kazan was possibly the highlight of our entire trip,
and no visitor to Russia should miss it.
---
I.
Griselda aboard our train from Yekaterinburg to Kazan -- the only first-class ticket
of our journey.
---
II.
A typical Tatar town en route to Kazan.
---
III.
Marx, Engels, and Lenin still hold sway over this lumber yard en route.
---
IV.
This photo and the next: architecture along Baumana street, a pedestrian mall that we
looked out on from our hotel.
---
V.
---
VI.
This photo and the next: walls and towers of Kazan's magnificent kremlin.
---
VII.
---
VIII.
Ringing the bell for Orthodox mass.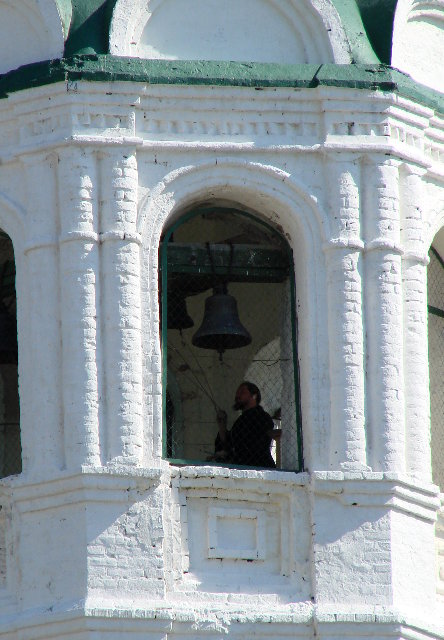 ---
IX.
Minarets of the Kul Sharif mosque.
---
X.
The majestic Kul Sharif, built to replace a mosque that Ivan the T. destroyed.
---
XI.
Interior of Kul Sharif.
---
XII.
The Annunciation Cathedral in the Kazan kremlin.
---
---
All photos copyright 2008 by Adam Jones, unless otherwise indicated. These images may be freely used for educational and other non-commercial purposes, if the author is credited and notified. For commercial use, please contact the author.

adamj_jones@hotmail.com
---