Midnight Oil
by Adam Jones
[Originally published in Out of Line (Vancouver), 18 July 1986.]
---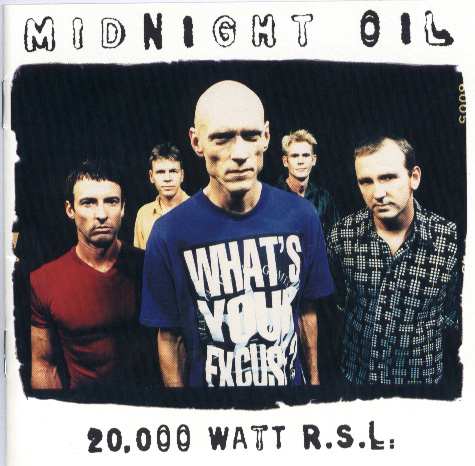 A year and a half ago, Peter Garrett - peace activist, qualified lawyer - was a candidate for the Australian Senate, the rough equivalent of this country's parliament. Running for the newly-formed Nuclear Disarmament Party (NDP), Garrett was narrowly edged out by a candidate from the established Democratic Party, a victim of Australia's intricate system of run-off preferential balloting.
Today, Peter Garrett is the anarchic, shaved-bald lead singer in one of the two or three best rock bands in the world. No surprise there, though. Garrett has sung lead with Midnight Oil for eight years.
A rocker making a serious run for the Senate? A trained lawyer spasm-dancing before thousands of adoring fans?
If Midnight Oil weren't so good, they'd be a curiosity.
---
"It just doesn't mean that much to the Oils to be big stars in America." - Rob Hirst, drummer
Only in Australia, perhaps. The insularity and isolation that bedeviled the Great South Land up to the Second World War have, in the end, proved its blessing, culturally if not economically. Australia is second only to Canada in foreign ownership of domestic resources and industry, a veritable client-state. This is no less true of the music industry. Yet Australian popular music is self-sufficient to an unusual degree, a degree unimaginable in this country.
In Canada, you play the local circuit hard, branch out to a few provincial gigs, work for a hit. If you don't get it, you don't get the contract, and without the contract you don't break the American market. Without that market, you are permanently exiled from the mainstream. This needn't be tragic, of course. But if you're looking for an index of the cultural health of a nation, you might consider the extent to which the mainstream has expanded to encompass progressive thought and aesthetic, without rendering banal or hollow everything fresh and exciting that it touches.
In Australia, you play the local circuit hard. Then you play it some more. Then you take your show on the road and play the local circuit in every big market in the country, all five or six of them, separated by hundreds or thousands of miles of barren desert. T he competition, predictably, is brutal.
If you get that contract and look overseas, it is not with quite the same desperate gleam in your eye. In fact, the track record of Australian mega-stars, those that went overseas and Made It Big, might counsel caution. More often than not, those stars have been dumped back home. AC/DC, the Bee Gees, Men At Work: they sold out, pandered to Moloch, forgot where their roots lay. Australians are jealous lovers. The intimate tie between rock and roll and the jet-set glitterati is generally despised. Australians don't like you to tip, and they don't like their bands coming back from abroad glutted on foreign fame, tossing about gratuities in the same fancy fashion.
"I remember the time that A & M Records commissioned Place Without A Postcard," says Rob Hirst. "When they received it they said it was far too Australian to release. That was when we walked out and told them they could shove their record." Midnight Oil is the most popular band in Australia. Midnight Oil is not Bryan Adams.
---
I come from a land of wide open spaces
Where the world turns around us and we just follow suit
There's heat in the air and peace reigns supreme
Got white flags on the clotheslines and the deals are new.
In the wind
The ashes fly
The poison crown
The charcoal ground
- "Maralinga" (from 10-9-8-7-6-5-4-3-2-1)
Midnight Oil is music. Once the music was raw and angry. Now it is sometimes raw, sometimes breathtakingly sophisticated and refined. Still angry, though.

Midnight Oil is Martin Rotsey and Jim Moginie on guitar, Rob Hirst on drums (recently some vocals), Peter Gifford [1998 note: now Bones Hillman] on bass, and Peter Garrett on lead vocals. "The Oils" - they're called that in Aussie, in the casual, friendly tone you might use to refer to your good neighbours, the Smiths - started out in 1978 with a rough-and-ready, eponymously-titled debut. They were mostly a university band. Peter Garrett had long, flowing locks back then ("I just kept cutting it shorter and shorter," he says of his present chrome-dome look. "The way it is now is an absolute convenience.")

Their ascension began with 1980's Head Injuries, an edgy, brittle record of Australia lost, found, and standing in queues. "Everything's set, everything's fine / You've just got to stand in line," they sang on a song that became an Aussie "My Generation."

In 1983, they record 10-9-8-7-6-5-4-3-2-1, a stunning album, fully realized, as powerful as any rock record every made. For the first time, the Oils forged connections with the wider world: thematically, and through the cult following that sprang up overseas, especially in England. The music was more complex, more produced, but laced as ever with Australian history and politics, as well as witty digs at the "Oz" version of La Dolce Vita.

On Red Sails in the Sunset, released in Australia at the end of Orwell's year and in North America last summer [1985], they added horns, bells, and even the haunting dijeridu of aboriginal musician Charles McMahon. The album cover, depicting Sydney post-apocalypse, made quite a splash. Red Sails is an expansive, sometimes diffuse record, ranging from the Clash-style cacophony of "Best of Both Worlds" to the resonant chimes of "Shipyards of New Zealand." Its centrepiece is "Jimmy Sharman's Boxers," a seven-minute epic about a touring troupe of aboriginal boxers in Aussie's frontier days: lining up to be pounded and pummeled at night, wasting their days drinking "at the First and Last Hotel." Garrett bellows the chorus like an incantation: "Why are we fighting for this? / Why are you paying for this? / You pay to see me fall like shrapnel to the floor ... What is the reason they keep coming back for more?"

Midnight Oil's music is redolent of Australia. It exudes the sun and dust and glass and asphalt of the island continent. It is unashamedly patriotic, but free of jingoist excess. At times, it is pure poetry. One song on Red Sails moves, in the space of a single verse, from the dawn of white settlement in Australia through the cosmopolitan rat-race of the modern world, ending at a vantage point somewhere beyond:
I was hanging round off Dobroyd Point
When the First Fleet chain sailed in
I looked into the clearest blue,
The scurvy smell and the convicts cry.
And we just carried on, yes, we just carried on ...
Now choppers strafe the supermarket
Sky and people wonder why
Chopping down tons of trees got seas
Of print not a soul can read, say
Why do I drown? You build brick boxes,
One by one they're blocking my sun.
But it's metal on metal, it's the dance of TV -
If Christ were here, he'd camera-check,
He'd cry so loud the planes would stop
He'd cry so loud the earth would shake
And men would fall in Tinsel Town.
---

The latest Australian release is an EP, Species Deceases [1985], which marks a return to the rough demo feel of their first couple of albums. It entered the Australian charts at number one, the first time an Aussie act had pulled that off. Revenues from Species Deceases, and proceeds from the concert tour that backed it up, went to Australian projects connected with the International Year of Youth.

By now it might be apparent that Midnight Oil's music is inseparable from Midnight Oil's politics. Toby Creswell, writing in the Australian Rolling Stone:
Maybe Bob Dylan came closest when he said, "There is no left wing or right wing, only an up wing and a down wing." Midnight Oil represent the up. The band's lyrics are not based on any obvious or cohesive ideology; they merely celebrate those things which excite them and condemn anything that threatens freedom and growth. The politics of Midnight Oil is about taking a step in the direction that you want to go, and the band has no rhetoric for utopias.
Politics beyond stridency, beyond the cold comfort of safe extremes. Constructive politics. Midnight Oil knows that if a house - a stale notion grown dangerous - needs to come down, you can't just take an axe to the foundations. You need to start work on another house next door, a happier edifice, less stuffy and oppressive. You need to invite the occupants of that other house to bring over suggestions of their own and help you in the construction. And maybe, when the work is done, they'll take the axe to their old dwelling themselves, and move in with you. Or you with them.

The Oils' songs are about connections; nothing exists in isolation. The threat of nuclear destruction is linked to the plight of the aborigines: "Maralinga" tells of the natives kicked off their ancestral land in the 1950s, so that British nuclear tests could turn it into a wasteland, poisoned for generations. The tragedy of Maralinga - that it could happen, with not a peep of protest - is linked to the obsessively insular, devoutly hedonistic strains in Australia society. Australian society is linked to the global community. And so on.

The Oils do not pander to their audience. "Sixteen million, I can't hear you at all," Garrett taunts on the new EP. "Some say that's Progress, I say that's cruel." But they never sneer. The music is an appeal for collective indignation and action, not partisan acrimony. It works. It gets inside you. If you listen to it long and hard enough, it changes you a little.
---
The rich get richer
The poor get the picture
The bombs never hit you when you're down so low
Some got pollution
Some revolution
There must be some solution but I just don't know.
- "Read About It" (from 10-9-8 ...)
Peter Garrett is the most visible and charismatic Oil, but in the band he is very much one musician among five. He is, however, the only member to have taken on politics on its own turf.

Garrett had been lobbied by a variety of peace and disarmament organizations before agreeing to stand for the Nuclear Disarmament Party in New South Wales. The NDP's meteoric rise to national prominence was roundly assailed by the established parties, but it served, as the conservative Australian newspaper pointed out, as "a major indictment of the shambling ideological incompetence" of those same parties. Bob Hawke's Labour government professes an anti-nuclear stance, but it has criticized New Zealand's stand against U.S. nuclear-capable warships, and adopted a generally servile attitude to the Reagan Administration's request for weapons-testing assistance. The Australian Democrats, who correspond approximately to Canada's own national NDP, have grown similarly complacent in their perennial peripheral role.

In the fall of 1984, things were ripe for a shake-up. The Nuclear Disarmament Party pulled the rug out from under the accepted spectrum of discussion and debate. It stood for an anti-nuclear warship policy like New Zealand's, an end to Australian complicity in U.S. missile testing, and more vocal opposition to French nuclear tests in the region. Its aim was the creation of a nuclear-free South Pacific.

The NDP elected two of its candidates to the Senate, a considerable achievement for a party formed only months before the elections. Then it tore itself apart at a subsequent convention, riven by factionalism and allegations of a takeover attempt by the Socialist Workers' Party of Australia. Garrett stalked out of that convention in disgust ("I QUIT!" blared the headlines), and now expresses relief that he wasn't elected. He feels he can be more useful outside the established political arena, for now anyway. If the NDP is dead in name, the issues it stirred up and the platforms it articulated are very much alive in fact. Only last week, Hawke's dominant faction defeated an attempt by Labour Party rank-and-file to make a nuclear-warship ban party - and hence government - policy.

Meanwhile, Garrett writes songs for the next album, and Midnight Oil plays on, as passionately as ever - with an edge of real desperation on Species Deceases that belies the black humour of the title:
It seems to me that what we're saying
Nobody wants to talk about
This is no time to be wondering why!
Why wait for the planes to come
When everybody's got us on the run?
South Pacific carry on ...
Here comes the Hercules
Here come the submarines
Sinking South Pacific dreams.
---
1998 Note
The "next album" mentioned near the end of the piece was, of course, Diesel and Dust, the Great Australian Album, and the Oils' crowning achievement. The band went on to make a string of not-quite-as-memorable records that were nonetheless always worth listening to: Blue Sky Mining, Earth and Sun and Moon, and the live Scream In Blue among them. 20,000 Watt R.S.L., the 1997 greatest-hits CD pictured at the top of the page, provides a good overview of their output. It includes "Hercules," the devastating but difficult-to-find anti-nuclear anthem from Species Deceases, from which the lyrics that close the article are drawn.

After my Oils piece was published, I sent it to the band in Australia, and received a letter from Peter Garrett in return. In 1987, riding the international success of Diesel and Dust, the Oils made their first North American tour as headliners, and I had my first opportunity to see them, in Seattle. I managed to get a copy of the article backstage and let Garrett know the author was in the audience. I was told to stick around until after the show, when the entire band came out and sat down to chat with me and a few friends who made the journey with me. We were all invited backstage to the next night's show, in Vancouver; and when I saw the Oils play a small club in Hamburg's red-light district in 1988, I again managed to hook up with them after the show. Rob Hirst described the trip by bus across the Rocky Mountains, the day after we'd last met. It was, he said, the first time the band members had seen snow.

---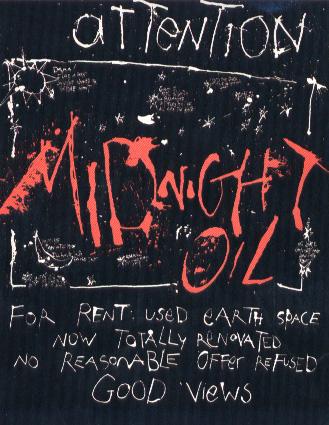 ---
Recordings by Midnight Oil from Amazon.com
---
Created by Adam Jones, 1998. No copyright claimed for non-commercial use if source is acknowledged and notified.
adamj_jones@hotmail.com
Last updated: 10 October 2000.