Indochina 2009
Photos by Adam Jones
These photos were taken during two months in Indochina
(Cambodia, Laos, and Vietnam) from May to July 2009.
---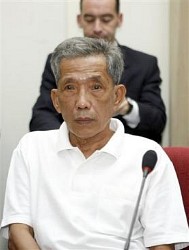 Photo Gallery 4: Tuol Sleng Genocide Museum, Phnom Penh
Tuol Sleng, which some wag nicknamed "Auschwitz on the Mekong," was once the Tuol Svay Prey High School. When the Khmer Rouge took control, they renamed it Security Prison 21 (S-21); it became a place of unimaginable torment for the estimated 17,000 prisoners who passed through its gates, only seven of whom survived. The chief torturer, Duch (pronounced "Doik" -- see photo at right), was on trial at the Extraordinary Chambers of the Courts of Cambodia when we arrived. As I watched Duch's calm features through the bulletproof glass in the courtroom, I couldn't help recalling Hannah Arendt's phrase, clichéd though it now is, referring to the "banality of evil" she witnessed on Adolf Eichmann's face during his trial in Jerusalem. In all, about 1.7 million Cambodians -- of a total population of eight million -- were murdered outright or died of starvation and disease during the Khmer Rouge reign of terror, 1975-79.
---
I.
---
II.
---
III.
Photo by Griselda Ramírez
---
IV.
---
V.
---
VI.
A somewhat mangled English version of some of the rules governing prisoner
behaviour at S-21.
---
VII.
---
VIII.
Torture cells at Tuol Sleng. They have been left more or less as they were found,
minus, of course, the decomposing corpses that were left on the cots and floors when the Khmer Rouge
commanders hurriedly evacuated ahead of the Vietnamese invasion of January 1979.
---
IX.
---
---
All photos copyright 2009 by Adam Jones, unless otherwise indicated. These images may be freely used for educational and other non-commercial purposes, if the author is credited and notified. For commercial use, please contact the author. All photos are available in high-resolution versions suitable for print publication.

adamj_jones@hotmail.com