My Renowned Brother
Craig E. Jones
Q.C., B.G.S., LL.B., LL.M.
by Craig Jones
---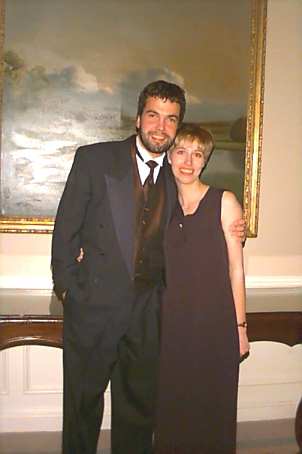 Craig and Amanda, 1997.
---
Every few years, I suggest to my brother Adam that he take this page down from his site. And each time, Adam convinces me to update my autobiography instead. I don't know why, but I do it. I suppose I figure if people are going to Google me, they might as well be forced to read something I wrote myself.
Like Adam, I was born in a location deemed convenient by the Royal Air Force. In my case it was Darlington, in the north of England. Our family moved to Ottawa a few years later when my father was seconded to the Canadian Government. Dad took an early retirement from the Air Force at age 38, and we settled in Vernon, B.C. My mother established herself as a teacher-librarian in the local schools, and Dad developed a career in commercial real estate. I lost my accent after a few years of merciless teasing, and graduated with mediocre grades from Vernon Senior Secondary.
In my twenties I drifted through a hodge podge of jobs: musician, reservist infantryman, magazine writer, and a manager in the Vancouver music industry. In 1985 I bought a 1952 Land Rover named Lucille, which is still in the family. At various times I lived in Calgary, Vernon, Vancouver, Surrey, Kelowna and Nanaimo. In the early 1990s I began to upgrade my undergraduate education via correspondence through the B.C. Open University (now Thompson Rivers University) with a view to gaining admission at a law school, and by 1995 had obtained enough credits to earn a place at UBC's Faculty of Law. I graduated with my LL.B. in 1998, and later went to Harvard for my Master's in law.
In 13 years of practice I worked at Bull, Housser & Tupper LLP, then for the provincial Attorney General, mostly in the field of constitutional and administrative law. I volunteered with the BC Civil Liberties Association and Pivot Legal Society. Like Adam, I've also always written quite compulsively. In 2012 I finished my first book for a popular audience, A Cruel Arithmetic, about the 2010-11 polygamy trial in which I had represented the B.C. Attorney General.
In 1999 I married Amanda Forrestal, and a few years later we moved to Bowen Island. We have two children, Daniel and Sadie, and a rotating menagerie of pets and livestock. In 2012 I took my present job with Thompson Rivers University, where I teach law. I continue to practice, now at the Vancouver firm of Branch Macmaster.
My hobbies are diverse and admittedly a bit weird. I love to tinker with things mechanical; in addition to attending to Lucille's ongoing needs, I also built The Warthog, perhaps the ugliest motorcycle in BC (since sold, alas). In 2003 I became the first person to complete the Vancouver International Marathon shoeless; since then I have established a Canadian record (albeit in a rather limited field) as the first Canadian to run five barefoot marathons in a year.
In an August 2011 article in Maclean's Magazine, Paul Wells called me "a boyishly handsome man [who] used to be famous."
Craig E. Jones, Q.C., B.G.S., LL.B., LL.M.
---
Created by Adam Jones adamj_jones@hotmail.com
Blog: http://jonestream.blogspot.com
and Craig Jones cej@bht.com
Site maintained by Adam Jones
Last updated: 25 August 2012.