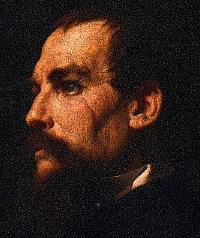 Captain Sir Richard Francis Burton
(1821-1890)
by Adam Jones


---
This British explorer and "renaissance man" represents to me the best the 19th century had to offer. Burton possessed an extraordinary range of personal attributes. Among other things, he was probably the most formidable linguist of the era. Combined with his omnivorous interest in foreign cultures, his way with languages enabled him to travel incognito to the holy cities of Mecca, Medina and Harar (in modern-day Somalia). He also served British colonial interests in the East India Company army, as a regular officer in Crimea, and as a spy in "The Great Game" in Central Asia. It was while on active duty in modern-day India and Pakistan that he wrote his first books, Goa and the Blue Mountains, Scinde, or: the Unhappy Valley (two volumes), and Sindh, and the Races that Inhabit the Valley of the Indus (two volumes), all published in 1851!
Together with Richard Speke, Burton "discovered" Lake Tanganyika on his great expeditions of 1856-58, and narrowly missed finding Nyanza (Lake Victoria), the source of the Nile. Speke did find it, alone, but failed to circumnavigate the lake. A public controversy arose when Speke returned to England to claim the Nile "prize." On the day he was to debate Burton on the subject at the Royal Geographical Society, in the summer of 1859, Speke died of a gunshot wound, apparently self-inflicted. (This part of Burton's life is covered excitingly in the film Mountains of the Moon (1990), with Patrick Bergin surprisingly convincing as Burton. The movie plays fast and loose with biographical and historical details, but is well worth seeing for its cinematic and scenic pleasures. It is the only film made about Burton's life, though Richard Attenborough, director of Gandhi, has long been rumoured to be planning another.)
[Text continues after graphic]
---
The classic portrait of Burton
by Sir Frederic Leighton
National Portrait Gallery, London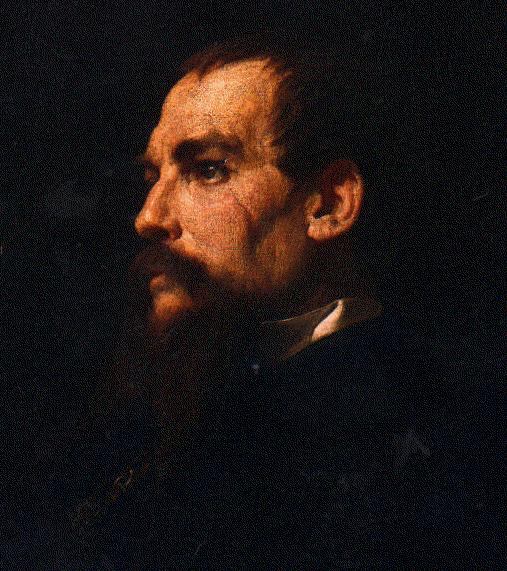 ---
On his travels, and at a study in Trieste where he kept eleven desks piled high with books and papers for separate manuscript projects, Burton worked at his extraordinary wealth of ethnographic studies and travel memoirs - 43 in all, along with 100 articles and nearly 30 translations. His best-known works include Personal Narrative of a Pilgrimage to El-Medinah and Meccah (3 volumes, 1855-56); The Lake Regions of Central Africa (2 volumes, 1860); and The City of the Saints and Across the Rocky Mountains to California, a groundbreaking study of the Mormons (1861). I hope to edit a new edition of his Letters from the Battlefields of Paraguay (1870), not reprinted in the twentieth century, with a historical introduction and an afterword, "Return to the Battlefields."
Sprinkled among these masterpieces are charming oddities like Falconry in the Valley of the Indus (1852) and A Complete System of Bayonet Exercise (1853). Many of the translated works have not since been surpassed. They include the erotic texts of the Kama Sutra and The Perfumed Garden - Burton scandalized Victorian England with his frank descriptions of sexual practices, and his regular proclamations of the centrality of women's pleasure. He praised foreign cultures that "study and intelligently study the art and mystery of satisfying the physical woman ... The mock virtue, the most immodest modesty of England and of the United States in the 19th century, pronounces the subject foul and fulsome."
In his later years, Burton served the British Foreign Office as consul in West Africa, Brazil (the base from which he paid his visits to the Paraguayan battle-front), and Syria. His quicksilver character, indiscipline, and fierce intellect meant he never achieved the recognition granted to much lesser men of his era. He was eventually knighted by Queen Victoria; but when he died in 1890, what material security he had he owed to privately-printed editions of his erotic translations.
Burton's wife, Isabel, was a quixotic figure up until publication, in 1998, of Mary Lovell's monumental 900-page work, A Rage to Live: A Biography of Richard and Isabel Burton. A staunch Catholic, she anchored herself to a man who derided most religions, and the Christian churches in particular. After his death, Isabel, as sole executrix of his will, was said to have burned the manuscript of his last great erotic translation (some 1100 pages) and his entire store of unpublished journals and diaries. Lovell argues convincingly that this is a myth, and that Isabel was very much the more robust and broad-minded woman depicted in Mountains of the Moon. Lovell also debunks the portrayal of Isabel as a puritan who lived a sexless marriage with Burton. While acknowledging that "It is impossible to state with any certainty what their sexual relationship was," she writes that her "extensive study of the vast amount of Burtoniana, including previously unseen surviving correspondence between Richard and Isabel and the statements of their closest friends, suggests that they enjoyed a warm and loving relationship. Further, given this close relationship, the intensely intimate dialogue they shared, Isabel's consistent worship and Burton's intense interest in erotic techniques, it seems likely that their sex life was both mutually satisfying and continuously interesting."
Though still little-known today - his actor namesake is also dead, but much more famous - Richard Burton stands as one of the towering figures of the modern era. Much of his work remains as vital as when it was written. As Lovell writes in A Rage to Live:
He was a many-faceted man who combined the unlikely qualities of both daring adventurer and scholar. A near genius, he never attained the destiny which might have been his because he never learned to discipline the massive intellect that enabled him, for example, to learn 29 languages and a dozen additional dialects, many so fluently that he could fool native speakers into believing he had been born in their country. He had a teacher's love of passing on knowledge and his books are a cornucopia of information, though they are not easy reading. However, his natural inquisitiveness makes them comprehensive repositories of knowledge on diverse subjects. He dropped out of Oxford University after little more than a year's tuition and thereafter his acquisition of knowledge was self-acquired, yet his papers and books demonstrate his ability to debate obscure subjects and themes at intense levels of comprehension, even with men who had dedicated their lives to their specific study.
I admire Burton for his wanderlust, his obsessively observant eye, his grace and precision as a writer, and his astonishing fortitude.
---
Note: See also the site constructed by Tim Spalding, Richard Burton on the Web, "a comprehensive Web directory and guide to all things Burton."
---
Another portrait of Burton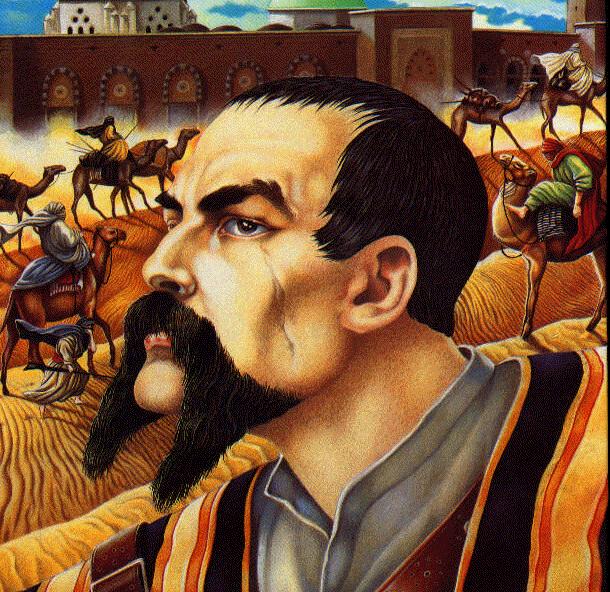 ---
Books by and about Captain Sir Richard Francis Burton
at Amazon.com
NOTE: If the box instead shows generic Amazon information,
please click the "Refresh" button on your browser.
---
Created by Adam Jones, 1998. No copyright claimed for non-commercial use if author is acknowledged and notified.


adamj_jones@hotmail.com
Last updated: 27 September 2000.